Our Table Coverage products are the fastest and most affordable way to cover large, flat swaths in your builds. They look striking on their own, and even better when integrated with our sculpted terrain.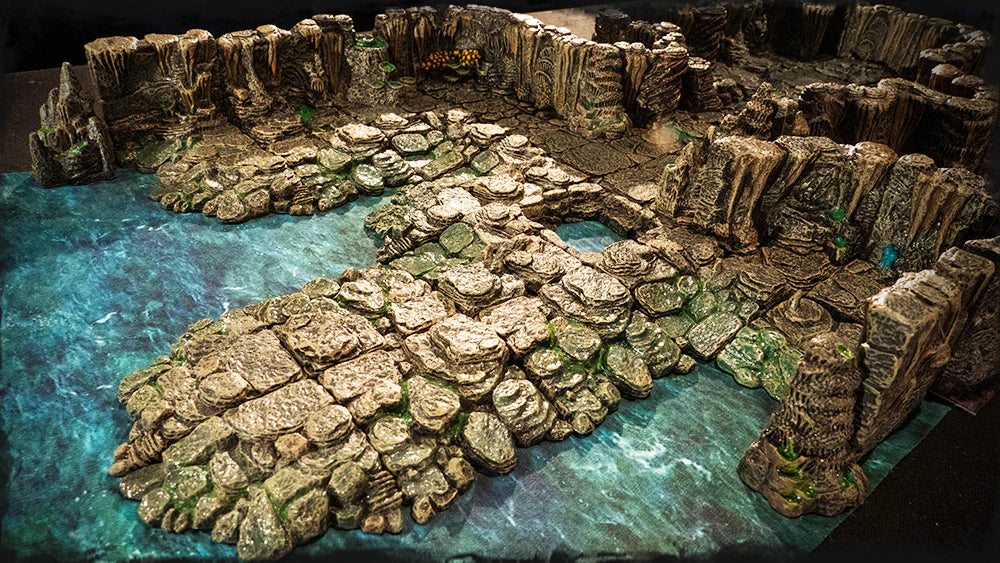 Negative Space Building
Use banks or ledges to transition your sculpted floors down to any table coverage to create free-form rivers, acid pools, lava flows and more. This technique works especially well with our Texture Mats for creating islands, swamps, lakes, harbors, or long rivers.
Scatter Building
Table coverage makes a gorgeous foundation for sculpted terrain. Just add a few pieces of scatter terrain on top to create an immersive build in minutes. Using our Terrain Trays and Battleboards, this is a great way to create wargame battlefields or quick random encounters.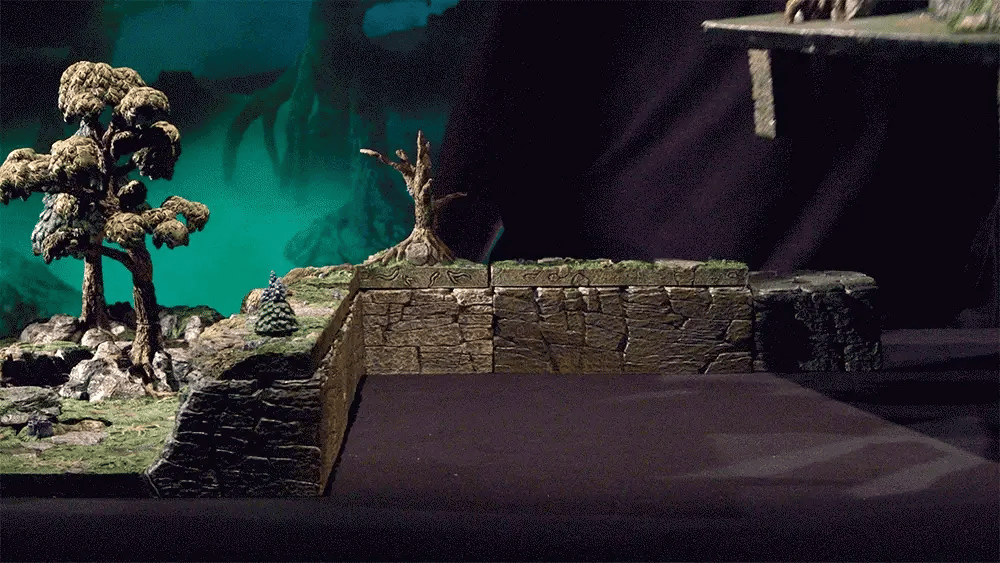 Multi-Level Building
Nothing looks more impressive than building vertically with terrain. Combine our Battleboards and Terrain Trays with stilts or risers to easily elevate large sections of a build. Stack multiple layers to build as high as you want.
Battleboards
Large, sturdy, and magnetic, Battleboards are highly-versatile, working as table coverage, in-line terrain, or a base for multi-level building. Whether you need vast floor coverage for your forest build, want to create a towering mountain, or want to transport large builds from one room to the next, Battleboards are the perfect addition to your toolbox.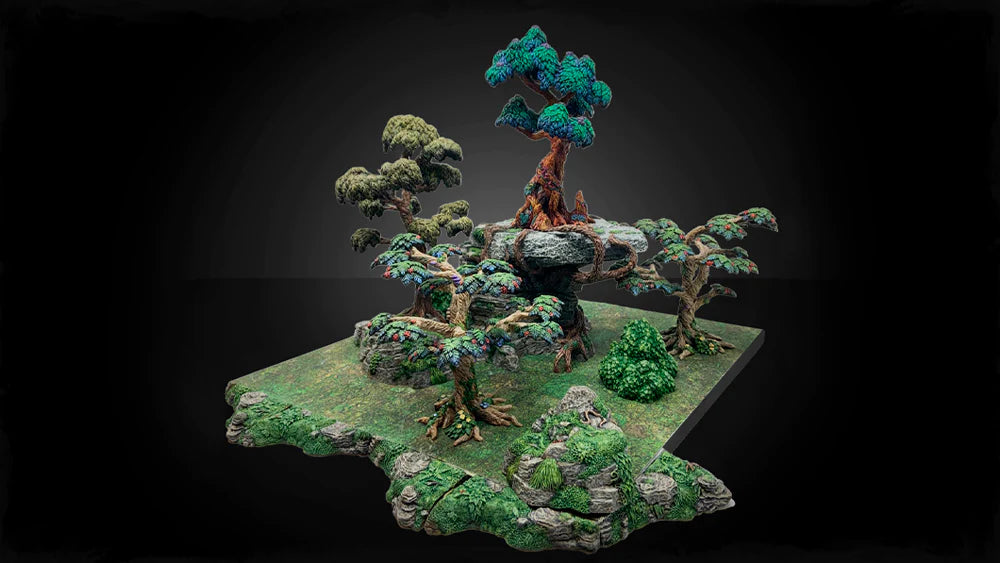 Floor-Height
Battleboards are 11mm high–the exact same as our standard floors. This means you can build them in-line with sculpted floors to create large flat areas at a low price point. You can also use banks and ledges around the edges of the boards to dress them or transition down to a lower level.
Metal and Magnets
The top of each Battleboard contains a graphic with a sheet of metal underneath, so the anchor magnets in our terrain pieces will firmly affix to the board for secure building and transport. The bottom of each Battleboard has magnets in the corners, so you can securely attach any terrain tray and elevate it to floor height for in-line building.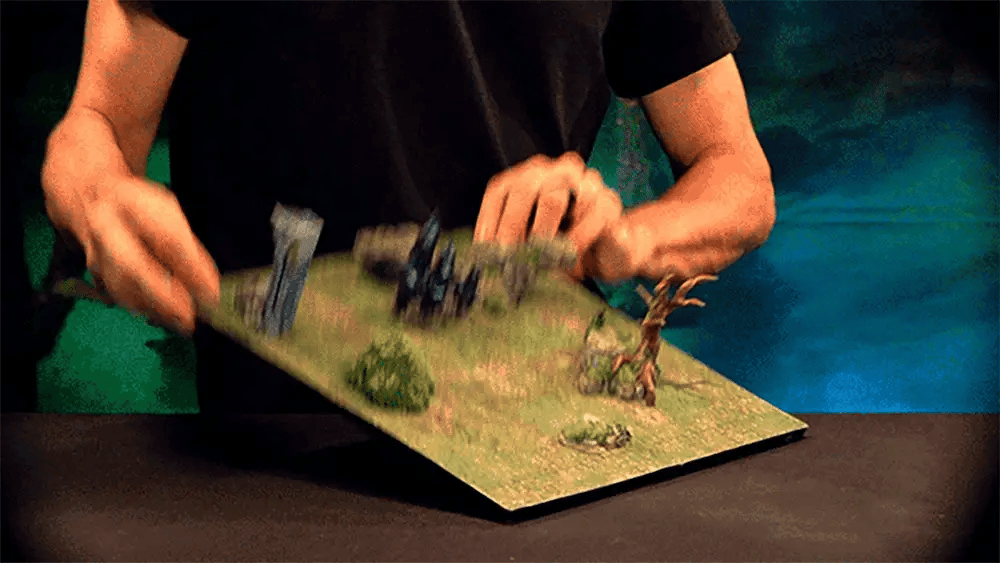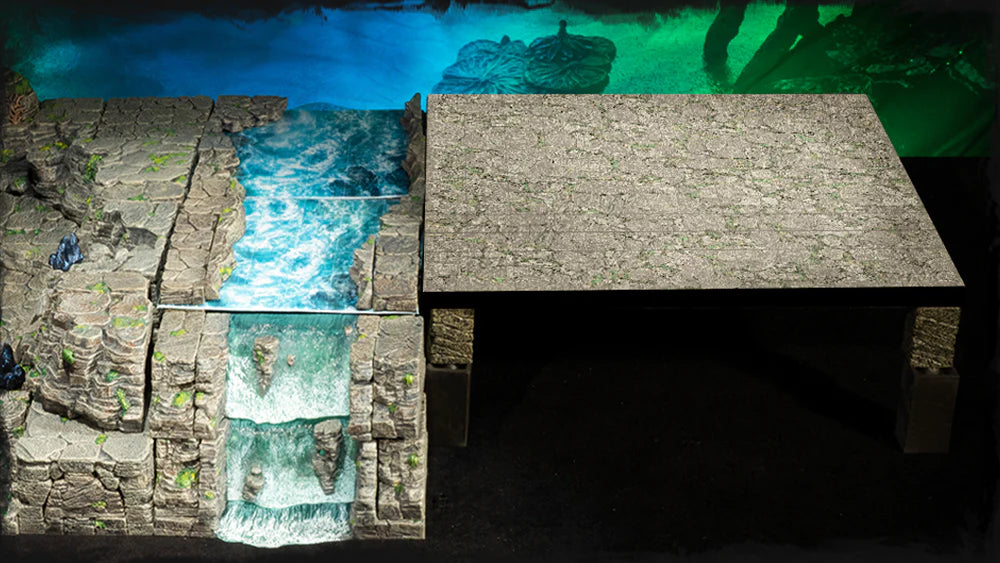 Sturdy Multi-Level Builds
DF Battleboards are made of metal and ABS plastic, sturdy enough for you to carry massive builds to the table without bowing. They really shine when combined with our magnetic stilts and risers, creating very stable foundations for towering multi-level builds with each level at the perfect height for the rest of your pieces.
Terrain Trays
Our most popular table coverage, Terrain Trays come in several sizes
with a wide variety of different graphics suitable for any biome. Each
is double-sided so you get two different graphic options on each tray.
The exterior is neoprene-style fabric with a rigid sheet of metal hidden
inside.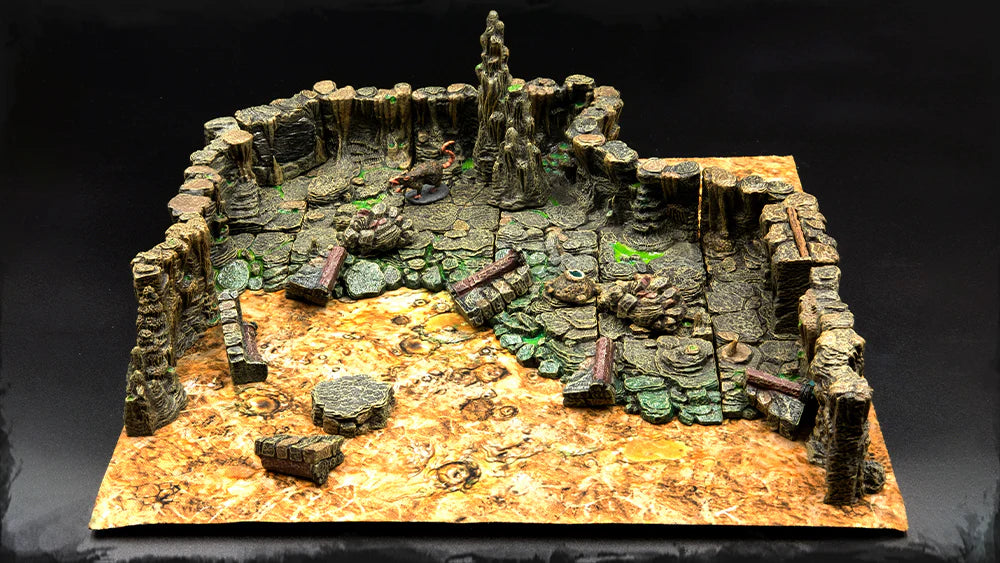 Negative Space Hazards
Build around your Terrain Tray with banks, ledges, or any sculpted floors and the remaining exposed area creates a "negative space" hazard such as a lava flow, or river. This is a fast and easy way to create a wide variety of challenges and eye-catching centerpieces. And by swapping out the Terrain Tray you can instantly transform a pond into a pool of acid or pit of necrotic sludge.
Holds Terrain In Place
The sheet of metal inside each tray works with the anchor magnets in our terrain to keep your builds firmly locked in place. You can also elevate your trays with our magnetic stilts and risers to create epic multi-level builds, like a river flowing into a waterfall.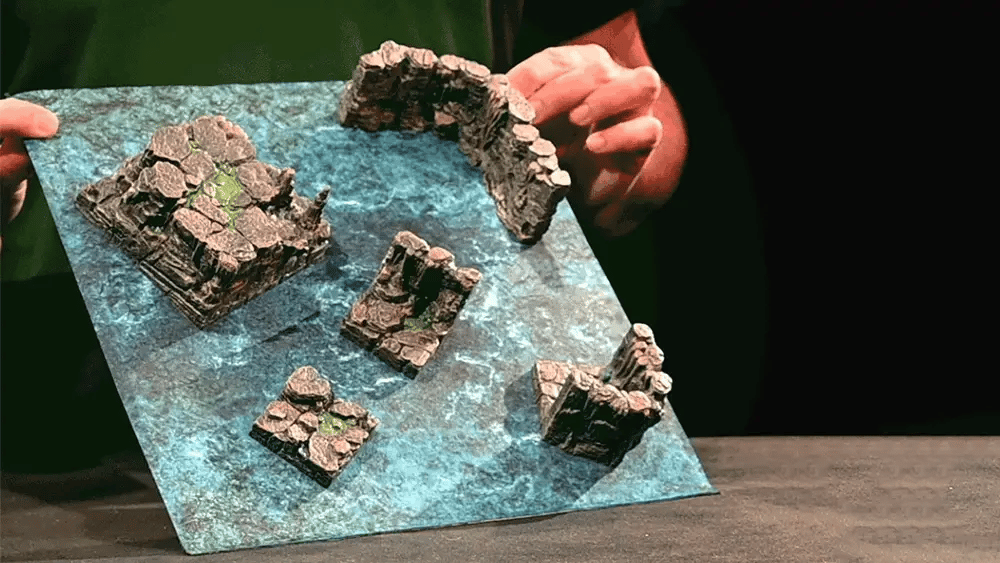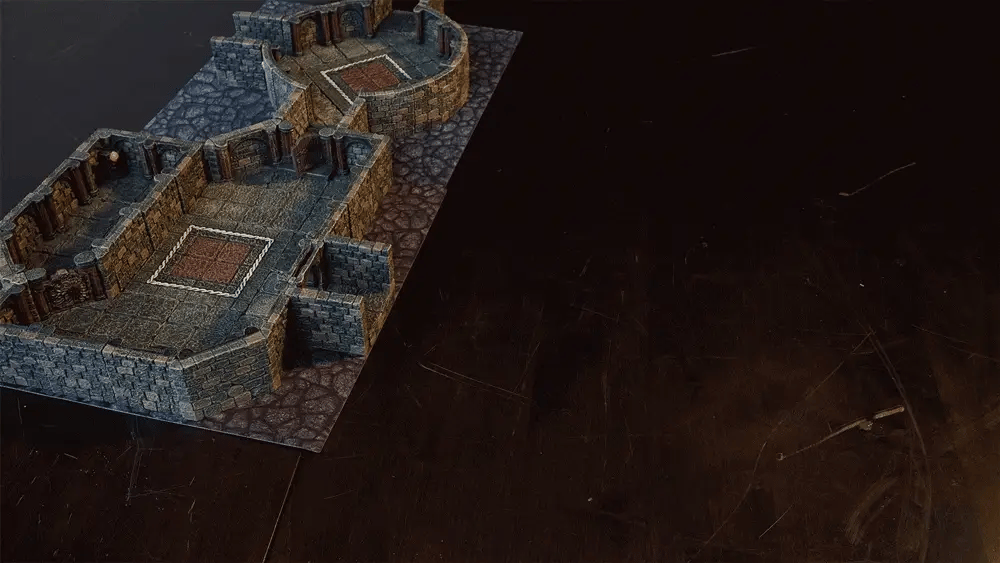 Transport Builds
Build your dungeon rooms each on a different Terrain Tray, and then fly them in as your players explore the dungeon. Thanks to the anchor magnets in our pieces it's easy to move builds around on top of Terrain Trays. It's also a great way to stash your builds on shelves between game sessions.
Texture Mats
Sometimes, you need more water than land. At 24"x24" our Texture
Mats are exactly what you need for large-scale coverage. Use one (or
multiples) as a base layer to just free build on top of to quickly
create a sprawling swamp, an island cluster, or a sea coast. Their top
surface has a textured ripple surface that reflects light to add shimmer
and depth to the water for extra realism.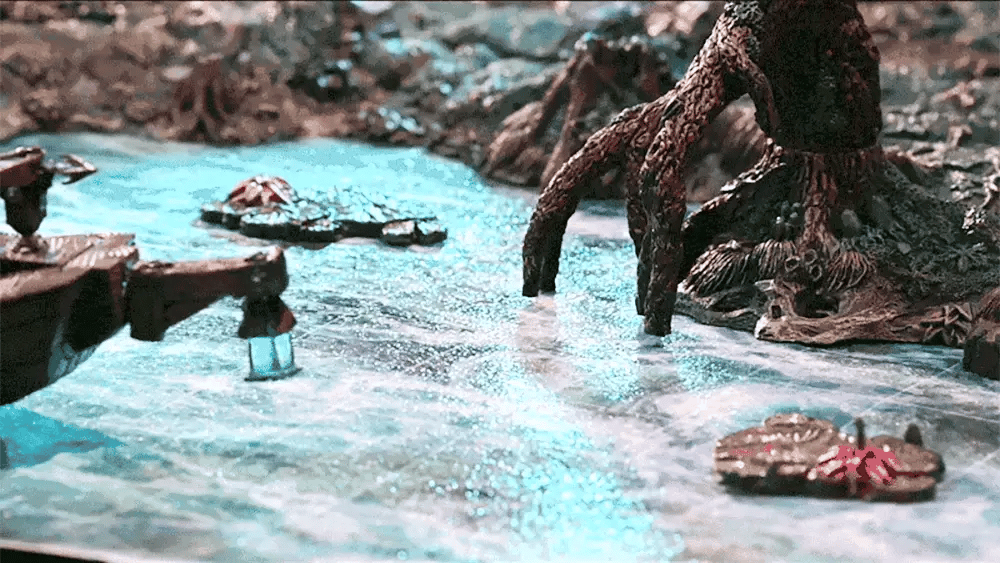 Ripple Texture
Our water Texture Mats have a clear glossy rippled surface that refracts light and, combined with beautiful realistic graphics, creates the illusion of a deep water on your tabletop. Contrasted against our sculpted terrain it makes stunning, large water features easy to achieve.
Large and Versatile
At 24"x24", our mats cover a lot of table quickly at a low price. By rearranging the layout of your sculpted floors and banks you can use the same mat to build islands, rivers, ponds, seacoasts and more. And, you can combine Texture Mats with our Terrain Trays, such as feeding the Raging River Terrain Trays into the Mountain Lake Texture Mat to create an inlet.
Lightweight and Convenient
Our Texture Mats are thin, light, and flexible enough to roll up tightly for storage. When you need to build a swamp or ocean encounter, it's as simple as rolling out your 24"x24" mat (or more if you need a larger area) and building scatter-style on top!